Our Quality Policy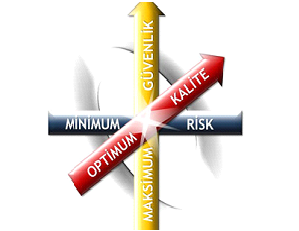 Quality management system applied by MAHMUT ERDAL CONSTRUTION is was established based on the principles of minimal bureaucracy and optimum documentation and communication to make quick decision and carry into practice. These features are achieved and successfully integrated to quality management system by utilizing mentioned below the project based management and process approaches.
Understanding current and future needs of employers, meet their needs and strives to deliver services on their expectations.
· Create work and communication environment and make permanent this environment that they may include as fully of employees and teamwork to achieve the company's goals through identify common goals by take the lead to create the company's vision.
· Be aware of they constitute the basis of MAHMUT ERDAL CONSTRUTION organization of MAHMUT ERDAL CONSTRUTION employees at every stage and provide to use by ensuring the full participation of their ability for quality achievement of MAHMUT ERDAL CONSTRUTION.
· Manage as a whole complementary processes of activities and related resources to achieve more effectively desired results.
· For this purpose, the processes associated with each other identify, understand and manage as a system contributory to effectiveness and efficiency in achieving MAHMUT ERDAL's quality goals.
· Within the whole company, so between Central-Local and Central-Site-Central regularly based on process, rapid and efficient exchange of information and providing communication to create continuous and a healthy monitoring and supervision mechanism.
· Thus take effective decisions for future success by processing the obtained data and information.
· Ensure continuous improvement continuously and effectively of MAHMUT ERDAL CONSTRUTIONs organization in parallel with the vision of continuous improvement of MAHMUT ERDAL CONSTRUTION's overall performance.
· Build relationships that can be mutually beneficial and principles integrity with suppliers and subcontractors given task on their project in order to achieve the company's goals by creating common value.